To follow on our regular insight at markets outlook by the largest asset managers, here is an highlight of the BlackRock Investment Institute release of its latest five-year return expectations for the main asset classes.
Key points
Stocks still look attractive relative to bonds over the medium term.
Federal Reserve minutes showed divided views on inflation.
Watch the annual gathering of global central bankers at Jackson Hole for any near-term policy signals.
Stocks attractive relative to bonds over a medium-term horizon
Global equity indexes have been hitting highs, sparking worries valuations are getting stretched. Yet they still see stocks as attractive relative to bonds over a medium-term horizon, as reflected in the latest quarterly update of BlackRock Investment Institute five-year return expectations across asset classes.
BlackRock's five-year asset class return expectations, August 2017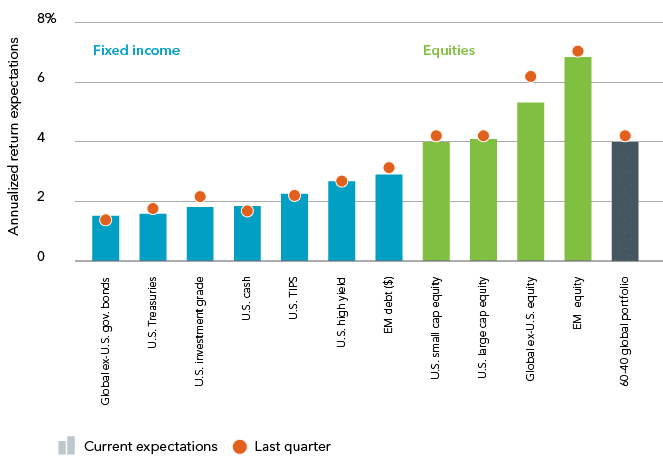 Sources: BlackRock Investment Institute and BlackRock Solutions, August 2017.
Notes: This information is not intended as a recommendation to invest in any particular asset class or strategy or as a promise of future performance. The bars show annualized nominal return expectations for the next five years from a U.S. dollar perspective. Representative indexes used are (left to right): Bloomberg Barclays Global Aggregate Treasury Index ex U.S., Bloomberg Barclays Government Index, Bloomberg Barclays U.S. Credit Index, Citigroup 3-Month Treasury Bill Index, Bloomberg Barclays U.S. Government Inflation-Linked Bond Index, Bloomberg Barclays U.S. High Yield Index, JP Morgan EMBI Global Diversified Index, MSCI USA Small Cap Index, MSCI USA Index, MSCI World ex USA Index and MSCI Emerging Markets Index. The 60-40 global portfolio is based on 60% MSCI All-Country World Index and 40% Bloomberg Barclays Global Treasury Index. Indexes are unmanaged and used for illustrative purposes only. They are not intended to be indicative of any fund or strategy's performance. It is not possible to invest directly in an index.
Their Capital Market Assumptions (CMA) drive their return expectations. Strong market performance of stocks and riskier fixed income sectors in the second quarter nudged down return expectations, as seen in the chart.
Still time to take risk
They advocate to maintain risks in a portfolio on the basis they see largely unchanged relative risks and rewards across asset classes on a five year horizon. Investors are still compensated for taking risk, especially in equities according to their view.
Dividends and earnings growth should support equity returns
Even as rich valuations are likely to act as a mild drag in coming year, lower expected real rates can justify higher equity multiples than historical averages.
It is a view that we have shared for long in our side, at least since the central banks have embarked into QE policies, and it has led us to stay relatively confident in maintaining risk in our portfolios. To notice that valuation made by many analysts and strategists in the market are still comparing price multiple on a historical basis to justify market richness. It overlooks that a price to earnings multiple in a very low rate environment as now has not the same meanings that the same in a higher interest rate regime such as we had in the past.
As BlakRock highlighted it; "it is intuitive: A lower discount rate boosts the present value of future corporate cash flows. Cash and government bonds offer the unappealing prospect of historically low returns over the next five years – and even negative returns in the eurozone, Switzerland and Japan."
Many investors holding too much cash and other safe-haven assets
They believe many investors may be holding too much cash and other safe-haven assets, as reflected in their Global Investor Pulse survey results. Sitting on the sidelines carries its own risks.
Their CMAs point to cumulative inflation-adjusted returns of 14% for a U.S.-based investment in global equities over the next five years, compared with minus 2% for U.S. cash.
Low expected returns
They stress that their expected returns are low by historical standards.
They see a global portfolio of 60% equities and 40% bonds generating a historically low nominal annual return of roughly 4% in U.S. dollar terms over the next five years.
Emerging market (EM) equities particularly attractive
In this low-return landscape, they find emerging market (EM) equities particularly attractive.
They favour non-U.S. equities over fixed income, and
credit over government bonds on a five-year time horizon.
Source: BlackRock Investment Institute, Richard Turnill, August 2017